Situation
A multi-purpose vessel and pipe fabrication facility was looking to refit their facility to build a wide range of vessels and tanks. They specialize in engineering design, pipeline fabrication and subsea engineering in Nigeria. The customer wanted to utilize the latest advancements in Submerged Arc Welding (SAW) equipment in order to gain a significant advantage over competition within the region.
After touring various welding manipulator manufacturers' facilities and doing side-by-side product comparisons, LJ was chosen as their column and boom welding manipulator partner for the following reasons:
They wanted a system that would be durable and reliable enough to withstand 24 x 7, 100% duty cycle production.
They needed an original equipment manufacturer (OEM) that built welding manipulators and tank turning rolls to ensure seamless integration between the welding and material handling sub-systems.
Enhanced safety including remote viewing camera systems, redundant fall protection, and components that are less susceptible to input power fluctuation issues.
The customer was unfamiliar with applying submerged arc technology, and thus required an OEM manufacturer that could not only build equipment to their required specifications, but equally important, provide fully comprehensive operator training and certification.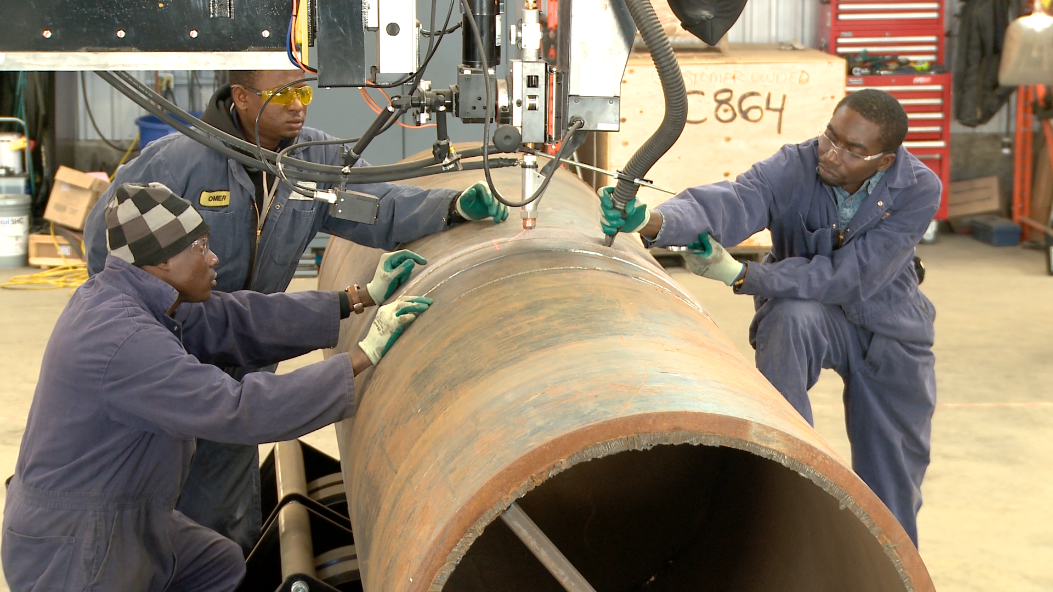 The Customer's Old Process
The customer had been manually welding with stick and GMAW welding processes without positioning or mechanized welding equipment. The old approach resulted in production output bottlenecks as these welding methods provided relatively low deposition rates, laborious set up, and limited flexibility when handling large, heavy wall vessels.
The LJ Solution
Within 4 months, LJ completed the following:
Scope definition for customer needs including input power requirements, equipment sizing, and budget optimization
Recommendations on components to best suit customer needs
Custom drawing package for customer review/approval
Expedited manufacturing
Training- LJ's in house subarc welding experts trained the customer with previously minimal experience with the process; after training was complete the customer was completely proficient at setting up the system for maximum deposition within their weld procedures
Delivery of equipment including all export documentation, crating, and logistics to customer INCO terms
The following key components were refined to best optimize the customer's budget and specification needs:
16' x 16' Column & Boom Manipulator to handle a wide range vessel diameters up to 16' diameter, difficult to reach positions, and long seams.
Camera System: a key component for remote viewing and easy, safe and efficient adjustment of welding head during set up and welding; laser pointers and cross-hair output on monitor included to make seam following easy for operator.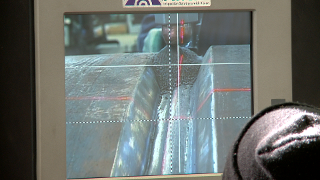 Powered Cross Slides: Joystick controlled, 2-axis fine adjustment capability with 6" effective travel in x-y directions (side/side, up/down).
Flux Recovery System: compact XP3 (air/pneumatic) style flux recovery system for recovery/recycling of flux during submerged arc welding.
Sub Arc System: customer chose Miller DC-1000 subarc power source due to it's transformer-based design which may be less susceptible to input power quality fluctuations.
80 Ton capacity tank turning rolls: fully integrated with the column and boom manipulator for seamless control during positioning, rotation and welding sequences. View 80 ton turning roll specs here: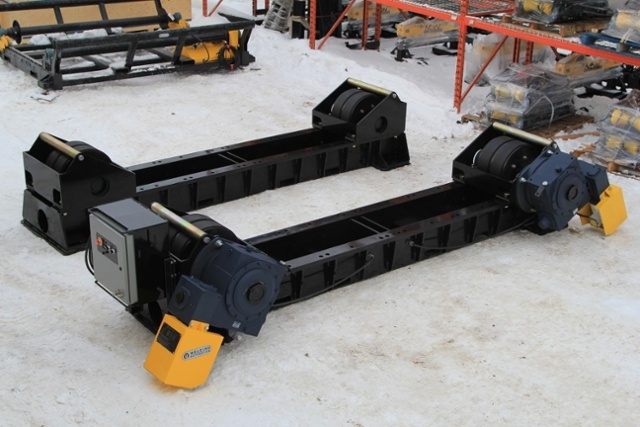 All of the above is controlled using an inutitive HMI (touch screen) interface so that the user could easily set up the welding system and tank turning rolls for maximum productivity. In addition, joystick and push button control options were provided for ease of use in situations where it was more convenient for the operator and all controls were mounted on adjustable arms for maximum worker convenience and comfort.
After comprehensive training, the customer now has a significant productivity advantage over their competition in their region.

Increased worker safety & reduced level of skill required for high throughput production.

Can take on a wide range of jobs with the new production capacity, securing future possible opportunities.
Reduced the labor costs in production by 30% -40%, as a result of more efficient handling, set up, and deposition rates of up to 20lbs/hour with single wire submerged arc welding. Future increases may be possible through the use of twin or tandem wire processes that LJ can upgrade at any time.
Interested in learning more about LJ's Subarc capabilities? Request a free consultation with one of our specialists today!
Topics: Case Studies, Boom and Column Welding Manipulators, Productivity, Submerged Arc Welding
If you liked this blog, please share!
---