Situation
A pipe spool fabrication facility located in Ontario, Canada needed to alleviate the bottleneck of time consuming pipe/flange/elbow fit-up with a range of 2" through 60" diameter. Fit-up cycle times were taking several hours on average and required a welder/fitter and one helper. In addition, the customer needed height adjustable welding positioners with torque output suitable to handle the very large offset loads required.
The customer chose LJ Welding Automation as their partner after considering other manufacturers' offerings for the following reasons:
The customer's sister facility had fully outfitted their pipe spooling shop with LJ equipment over the past 10 years and could directly speak to equipment quality, fast lead times, training and after-market support.
Reliability and reputation was what the multi-billion dollar company built itself on and needed a partner that embodied these key values.
The customer toured LJ's manufacturing facilities to review QC, Engineering and Fabrication ability.
After meeting with LJ's engineering group, they knew that LJ had both the experience, creativity, and capacity to meet looming tight production timelines set by their management.
Old Process
The customer was using a combination of roller support stands, cribbing, shimming and cranes. The work piece was fitted with the crane onto the roller stands and cribbing, positioned and repositioned until eventually the pipe was ready to weld. Often the use of sledge hammers were used for the fine adjustment. This typically would take a couple of hours with 2 workers.
The LJ Solution

In under 10 weeks, LJ was able to design a custom system, build, train and deliver the first 40TMR system to the customer.
The following key components were refined to best optimize the customer's budget and specification needs:
40 Ton Alignment Roll Set for highly productive fit-up of pipe spools. A crane would load the pipe sections onto the rollers and the 40TMR alignment roll system would quickly fit up the pipe for tacking.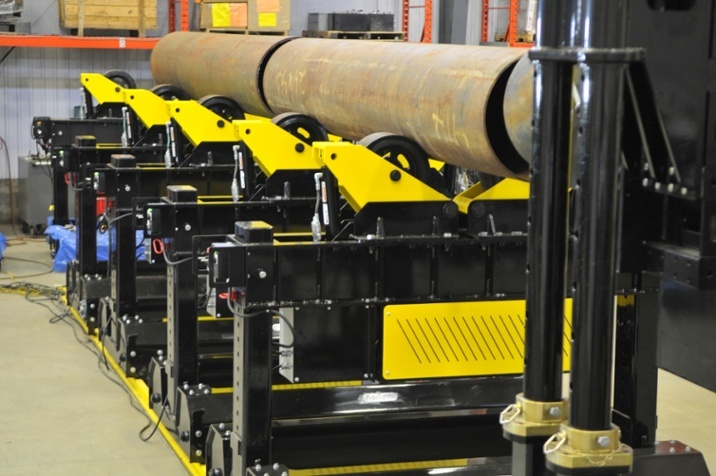 The roller system enables alignment utilizing hydraulically actuated idlers (up and down, left and right) and lateral track motion (rail system) for bringing the pipe sections together, without the use of wood cribbing, manual jacks, and constant crane reconfigurations.
Headstock Pipe Welding Positioner Handles pipe ranging from 2" through 60" diameter and greater than 40,000lbs. LJ developed a compact but extremely powerful headstock with height adjustability to handle the large range of swing diameters the customer required.
Click here for a range of welding positioners for sale. For information on the elbow jig used with this positioner, click to read the blog here: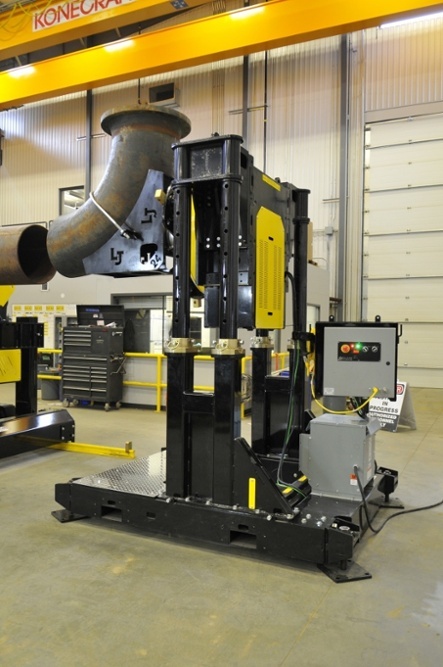 The Bottom Line:
Customer reduced fit-up time from multiple hours with two people down to a several minutes with one person.
Reduced dependence on cranes, increased throughput, and expanded capabilities in the shop
Have an upcoming project you'd like LJ to help with? Request a free consultation with one of our fabrication automation specialists below: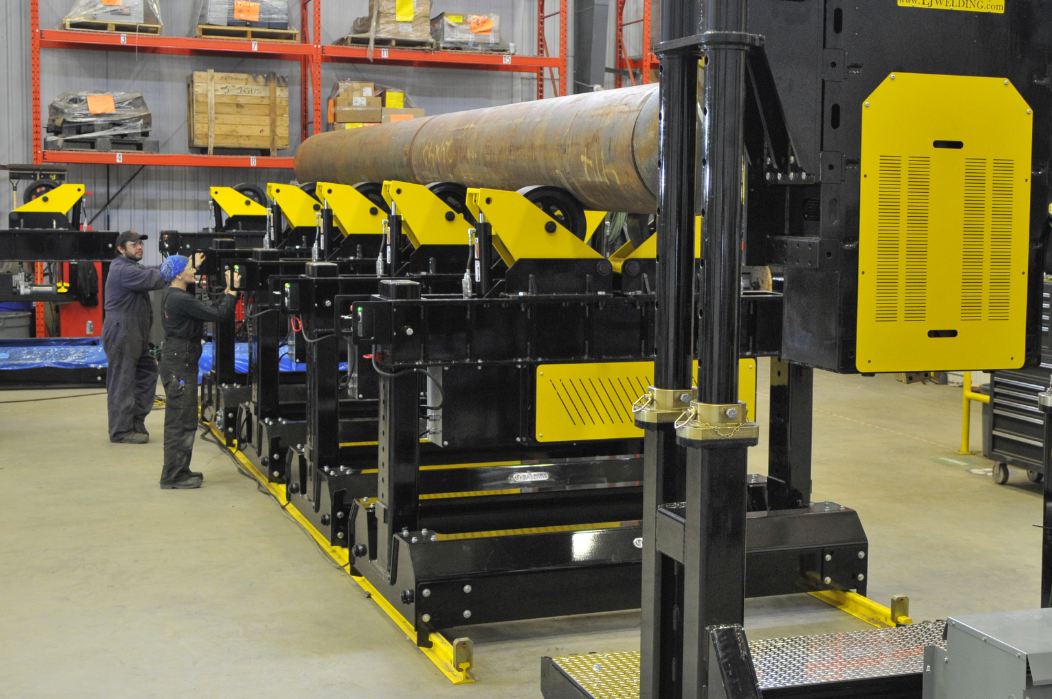 Topics: Case Studies, Productivity, New Products & Innovations
If you liked this blog, please share!
---