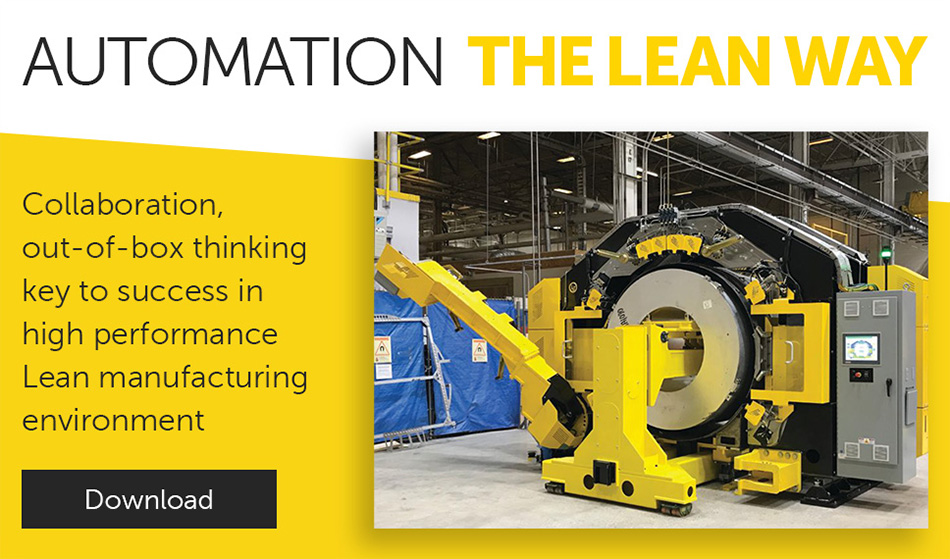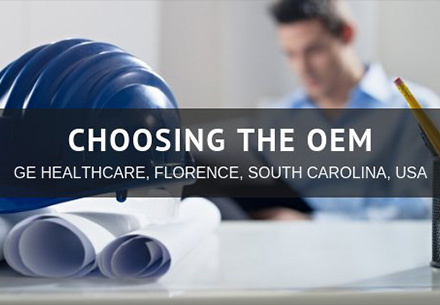 Choosing The Original Equipment Manufacturer (OEM)
After extensive proposal reviews, GE Healthcare chose Praxair USA as the vendor. Initially they were hesitant because Praxair insisted on LJ Welding Automation as the OEM and is based outside of the USA. Calhoun, GE Healthcare's Product Team Leader recalls:
"We initially had concerns because the deal was with Praxair, and they insisted on LJ even though LJ Welding Automation is 2,000+ miles from Florence, South Carolina. Once we sat down for the initial meeting, I knew LJ could handle any project we threw at them. We went full speed from there! We had meetings every week -- communication was excellent."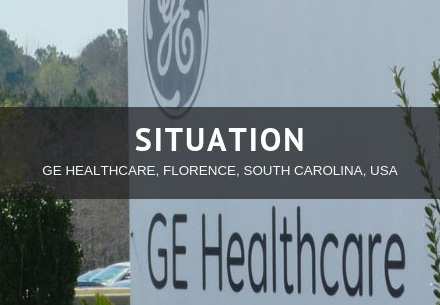 The Situation
GE Healthcare is a $19 billion healthcare business of General Electric. They are a leading provider of medical imaging, monitoring, bio-manufacturing, cell and gene therapy technologies. Due to GE Healthcare's global and competitive manufacturing nature, they adhere to stringent regulatory requirements. This leaves little room for error. The end-products are highly valuable and rework issues are costly.
GE Healthcare's parent company, General Electric, had been under pressure over the last few years to strengthen its balance sheet and improve or sell-off its least profitable businesses. After being unceremoniously taken off of the iconic Dow Jones industrial average, of which GE was a founding member of in 1896, anxieties about the company's future became apparent.
GE Healthcare was considered profitable, but a looming spin off of the health-care business over the next 18 months meant it was going to be "sink or swim," and Production Leader Aubrey Calhoun and his team weren't taking any chances. GE Healthcare went straight to work exploring options for lean production, single piece flow material handling for one of its most time and resource intensive products: the 5.5 tonne helium vessel constructed out of aluminum used in MRIs.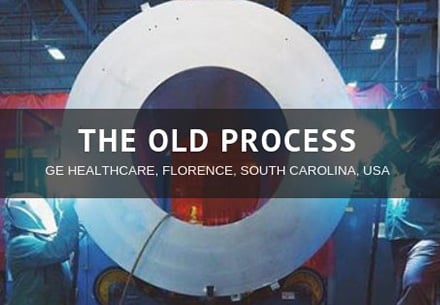 Reviewing GE Healthcare's Old Process
The old process used turning rolls to rotate the helium vessel and welding manipulator with MIG torch for the welds and relied on overhead cranes.
They had a separate piece of equipment to reorient the helium vessel from the vertical to the horizontal orientation for the welding process.
additional blocks are welded on.
A second set of turning rolls was required to put the workpiece on once they were done welding.
Cycle Times: 9 hours
Labour Requirements: 36 hours applied over two shifts
Weld quality issues.
Costly rework issues.
Old system required significant shop floor space.
Reliance on overhead cranes, posing a safety risk.
Time intensive material handling procedure.
High margin for human error.
Strong desire to move to a single-flow production line.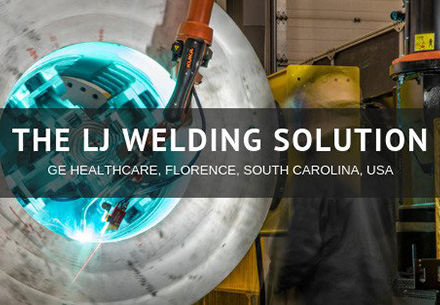 LJ's Fully Automated Material Handling & Welding Automation Solution
LJ addressed GE Healthcare's key challenges of weld quality and rework issues with a fully automated, custom solution where the operator doesn't touch the work piece after it has been loaded into the machine until the process is completed on the other side.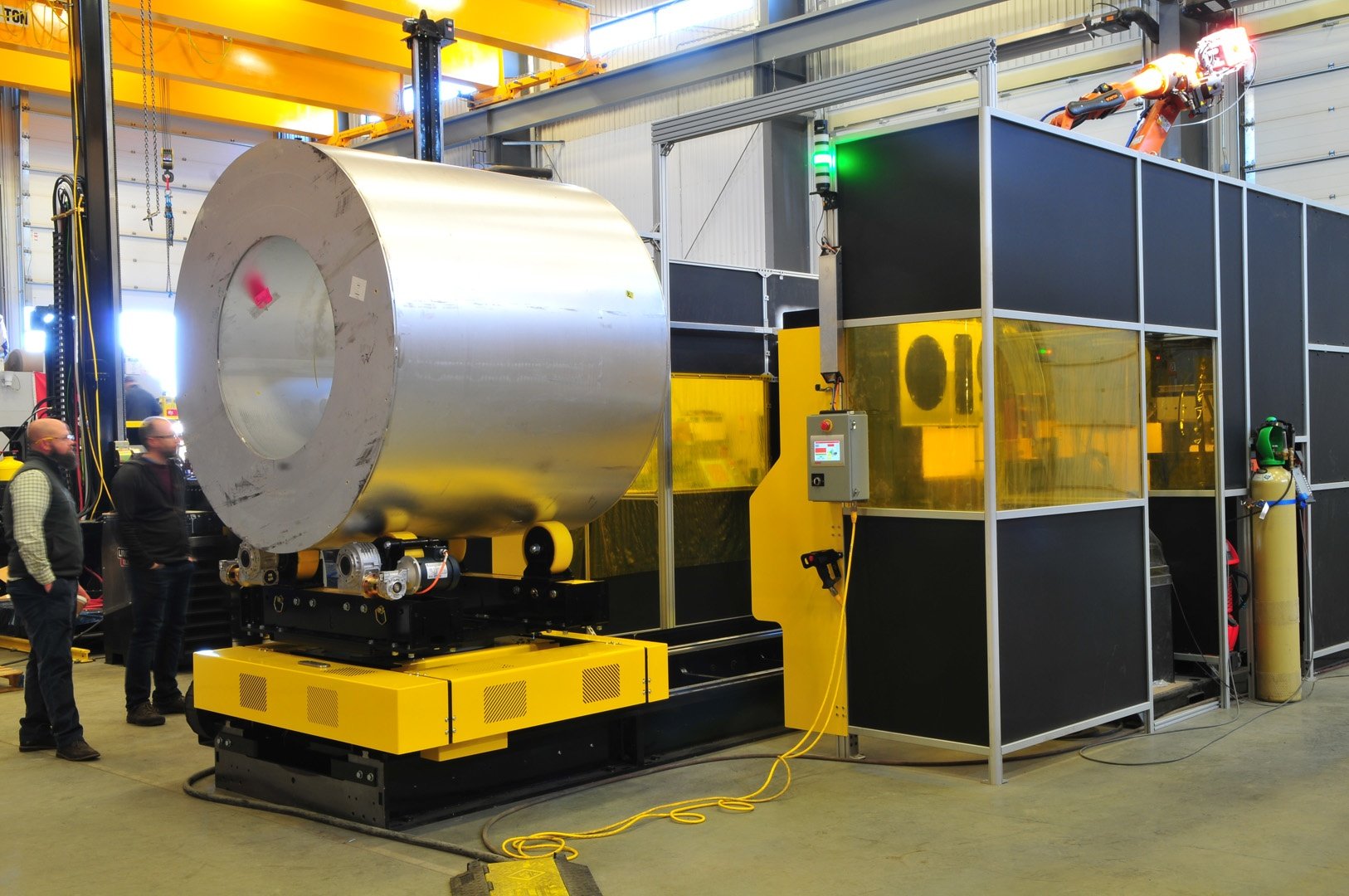 The LJ Material Handling Solution
LJ eliminated the overhead crane use by making the new machine a complete material handling solution. This eliminated human error associated with material handling, overhead crane use, and simplified the operator's job. All the operator needs to do is load the workpiece into the cell and press "load vessel" on the HMI screen.
In addition to custom rollers, the LJ material handling solution included an innovative expanding gripper that fits within the donut to safely load and unload the weldment and allows the welding torch access to all weld seams from one setup. This greatly sped up repositioning the workpiece vertical to horizontal, eliminated overhead crane reliance and human error in their material handling process.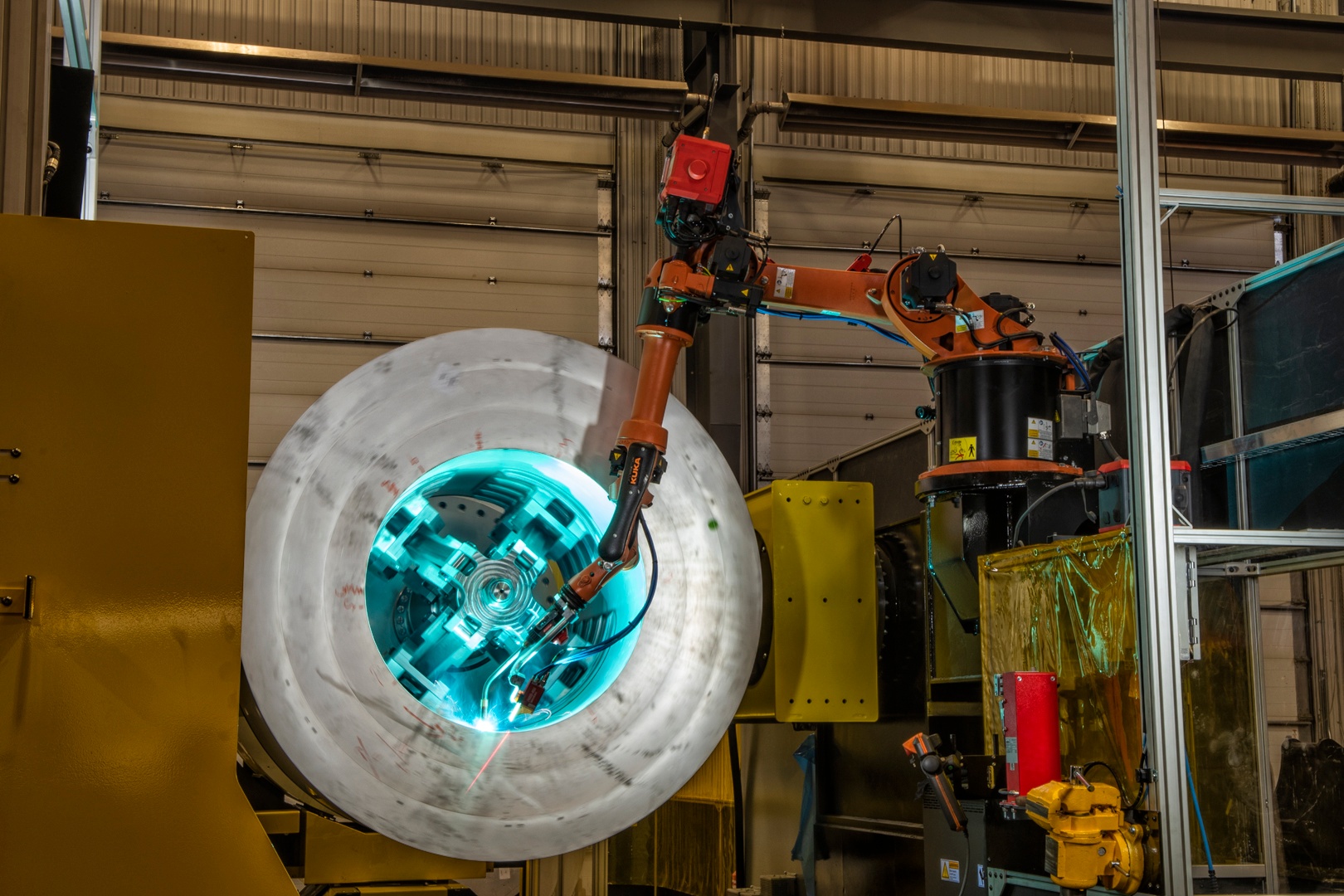 The LJ Welding Automation Solution
A fully automated Kuka welding robot was installed with laser seam tracking in order to provide adaptation to weld joints and geometries. This allows the weld robot to adapt to changes in the groove to achieve a consistent high quality weld, regardless of the operator's welding skill level. "The welds are above and beyond what we had before." Calhoun explained.
The Results
New Cycle Time: 4 hours (down from 9 hours)
New Labor Requirements: 18 hours applied labor across 2 shifts (50% reduction)
Return On Investment (ROI): 2.5 years estimated until the system paid for itself.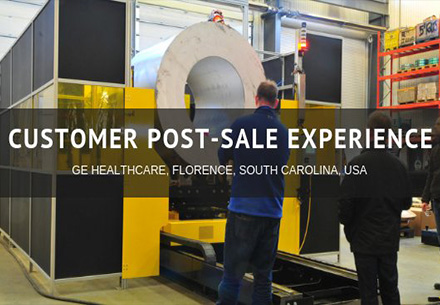 Troubleshooting Support Experience
"Within five minutes of reporting a seam tracking issue, I received a text and email explaining how to correct the vision tracking system, including detailed screenshots indicating what parameters to adjust. In under ten minutes the robot was back up and running. We have other robotic cells in the facility and at times we would wait days for a response, even though those integrators are just minutes down the road. LJ provides unparalleled service."
- Aubrey C. MR Technical Services, Production Team Leader, GE Healthcare
Document Support Experience
"I would also like to mention the engineering turn over package that included service and spare parts manuals for every component installed in this weld cell. Not only did I receive hard copies, LJ Welding Automation put together digital copies that are now saved on our cloud. Anyone with access at GE Florence can open these manuals and find exactly what they need from programming all the way to ordering replacement bearings. These details are often overlooked or forgotten, but when the rubber meets the road this level of detail can make or break production!"
- Aubrey C. MR Technical Services, Production Team Leader, GE Healthcare
In Summary, GE Healthcare
Improved cycle times by 55% and cut the labor required in half.
Eliminated overhead crane use and reduced shop floor footprint.
Improved their weld quality, reducing rework issues.
Attained an estimated ROI of 2.5 years until the system paid for itself.
Secured a reliable OEM 2,000+ miles away that provides "unparalleled service" for future projects.
What would an LJ Welding Solution look like for you? Contact us today!
Topics: Case Studies, Research & Development, robotic welding, ge healthcare, welding cell, material handling systems, seam tracking, mig welding, fully automated welding systems, column and boom welding manipulators
If you liked this blog, please share!
---