LJ Welding Automation makes world-class material handling and welding automation equipment. Today LJ uses the very material handling and welding automation equipment they build in their own in-house manufacturing process.
The 30P pipe welding positioner is one of LJ's most popular welding positioners. The positioner head weighs more than 500lbs. With its awkward shape and weight, repositioning the positioner head was cumbersome, time consuming and created safety hazards.


The 30P frame would be manually welded on the floor using saw horses and need to be flipped at least 6 times in order to weld out ⅜ inch fillets using over-head cranes. An experienced welder would complete 1 ½ welding positioner heads using the old process in one full work day.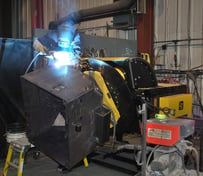 A 2PT-300 (6,000 lbs load capacity gear tilt positioner) was put in the welding station and the 30P was bolted to the slotted table. On the left side you can see the gear tilt positioner with a 30P mounted so the welder can easily tilt and rotate the workpiece into the most comfortable and productive position.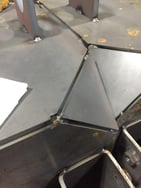 Inner and exterior welding could then be done at standing height and without dependence on overhead cranes and saw horses. Since the workpiece was mounted to the face, the welder could easily rotate and reposition the workpieces to optimize weld performance and increase arc on time. Corner gussets of 40° and 30° can be easily welded, as seen on the right side picture. The gear tilt rotation made the need to reposition the workpiece by crane and shimming nearly obsolete.
By semi-automating a routine manual welding process, LJ saw an increase to 2.5 welding positioner heads per day, or 12.5 units per week – up from 1.5 units per day (7.5 units per week). In essence, each welder on average became 67% more productive over-night without increasing payroll expenses.
In productivity terms, LJ was able to vastly increase productivity and throughput further, improving weld quality, with less shop floor space and labor time per unit.

*Full-time welders' days saved assumes the old production rate of 1.5 units produced per day.
**Per Year assumes 52 work weeks per year. Please make sure you give welders holidays and vacations for additional productivity benefits :)
In Summary, LJ Welding Automation Practices What We Preach:
Enhanced weld quality by optimizing welding positions using 2-axes of motion.
Improved ease-of-welding and operator comfort.
Gained HSE improvement by reducing dependency on overhead cranes, shims and saw horses.
Decreased shop floor space needed for the job.
Increased welder productivity per day by 66.6%, immediately.
Considering a gear tilt positioner for your shop? Contact us today!
Topics: Case Studies
If you liked this blog, please share!
---