Situation
A North American manufacturer of thin walled oil storage tanks was using antiquated, inefficient equipment that led to production delays and in turn, a loss of market share in a hyper-competitive market. This company needed not only increased volume throughput in a maxed out facility, but also full automation over the handling and welding of these tanks to compensate for a severe skilled worker shortage. In short, they needed to produce twice as much volume with the same amount of labor to remain competitive.
Old Process
Cans would be lifted and positioned by crane on to conventional roller. Multiple workers were required to inefficiently handle the cumbersome thin walled, large diameter "cans" that are notoriously hard to handle due to self-weight sagging, and difficulties encountered during fit up. Fit up times of cans were a major time drain, taking 2 hours (or more) per seam for the fit up to be acceptable. Furthermore, workers were required to work in confined spaces as well as high from the ground requiring fall protection, which was an efficiency drawback and constant safety liability. Although this company was already a market leader, their market dominance was threatened due to constant equipment failures, downtime, rising labor costs, and overall inefficiency in their production. They knew they had to embrace automation or they would lose market share to their competition.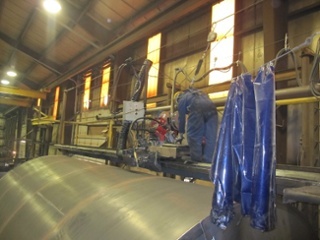 The LJ Solution
LJ was able to consult (request yours free here), process-audit, design and manufacture a complete robotic welding cell with fit up rolls for thin-walled tank which included everything from new weld procedure R&D, engineering design, manufacturing, commissioning, training, and delivery. Most notably, LJ developed a new procedure that allowed the customer to eliminate all major inside circumferential seam welds and instead utilize a single side, one-pass outside diameter weld that cut welding cycle times in half and vastly increased safety.
The thin walled tank robotic arm welding cell consisted of:
End Cap Robotic Welding Station: utilizing a servo-driven precision turntable, robotic welding arm outfitted with a metal-core MIG welding system, 12ft diameter end caps could be welded in full automatic mode. 450 inch long circumferential fillet welds (inside and outside) were completed nonstop at a rate of 25 inches/minute, and with minimal supervision.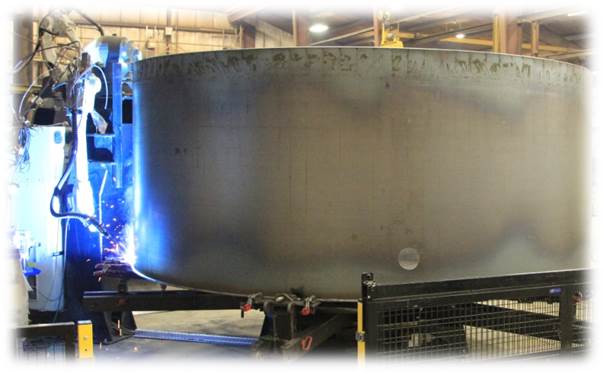 ALG-512 Tank Fit Up Rolls with up to 56 axes of control, allowed the operators to manage every aspect of thin walled tank fit up and handling:
Tank side support fixture: side supports automatically adjusted to a set diameter, and the provided the side supports to keep the thin walled tanks from sagging under self weight during fit up.
Transverse Alignment Features: for pulling cans together prior to full alignment on roller bed, eliminating need for crane handling step, including end stop rollers to minimize drift during welding.
Seam Elevation Alignment System: 4-point rollers for leveling/lowering elevation at the seam for quick seam fit up prior to tack welding prior to welding.
Precision Dual Drive Rotation: for precise speed control during welding.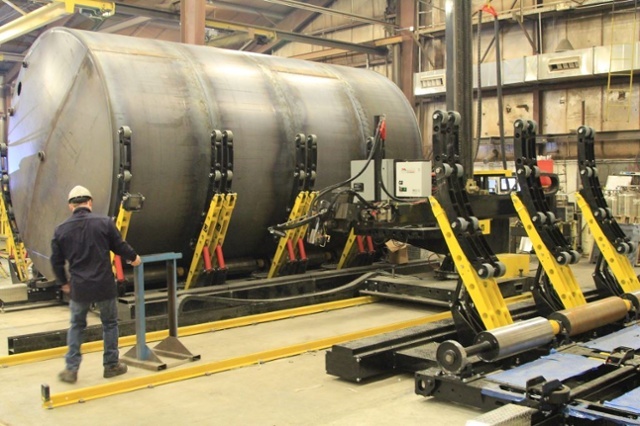 MN12-300 Column and Boom Welding Manipulator

: 12' x 12' fully automated welding system with state of the art features as follows:

Fronius CMT welding system: cold metal transfer was chosen due a number of unique features including low heat input, ease of automation due to wire stick out advantages, and clean, nearly spatter free welds.
Vision Seam tracking: LJ partnered with Metavision as the seam tracking system of choice, as the weld joints were difficult to track due to very small gaps, and bevels on thin walled plate.
Camera Systems: for full viewing from floor, helping for both set up and viewing during weld process.
Integration Features: fully integrated with tank fit up rolls so that the column and boom welding manipulator could be indexed using travel car from seam to seam and once welding started an auto-start sequence to intiate turning and welding in sync.

Results
LJ developed a weld procedure for all horizontal circumferential welds that eliminated previous 2-pass system (inside + outside) and provided a single-side, 1-pass outside only approach that cut welding cycle times in half and vastly improved safety.
End cap weld stations were fully automated using robotic welding arms, servo-driven turntables and fully automated welds exceeding 500 inches at time were welded at 25 ipm with minimal operator supervision.
Tank fit up time was cut in half and crane handling minimized using ultra-productive fit up roller beds with multi-axis wireless pendant control.
Customer was able to achieve and exceed required production volumes and vastly increase their competitive advantage.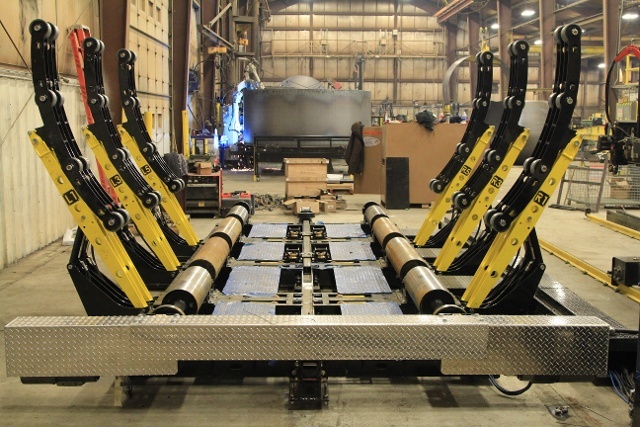 Have a custom project you'd like a free consultation on? We'd like to help!
Topics: Case Studies, Boom and Column Welding Manipulators, Productivity, Submerged Arc Welding, New Products & Innovations, Research & Development, robotic welding
If you liked this blog, please share!
---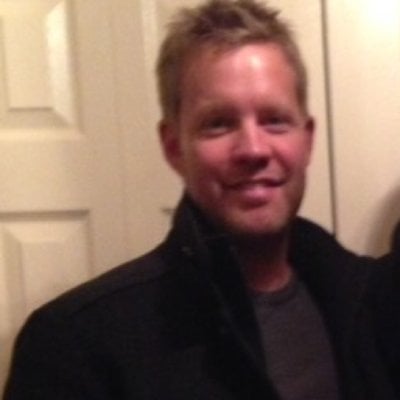 Posted by
Ryan Holt, P.Eng
Ryan is a Partner and the Chief Operations Officer for LJ Welding Automation.