LJ Welding Automation has added a wireless solution to our complement our full line up of accessories. The wireless pendant is much more than a "me too" product.
We're able to ensure that our machines help our customers increase their safety and productivity. Removing the wires form Hand Pendant controls:
Removes the possibility of the operator getting tangled in wired systems.
The operator has full mobility and is no longer limited by a fixed cord length.
The LJ Wireless Pendant provides a "deadman switch" or an "e-stop" for emergency situations.
We cut your downtime by reducing the problems with maintaining and protection cable connected pendant systems.
The wireless hand pendant platform that LJ Welding Automation provides will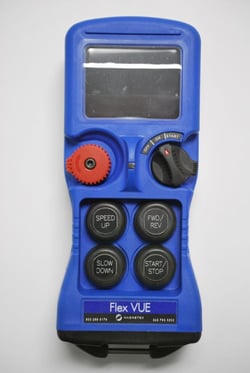 drop into most LJ Welding Automation equipment using the standard 19pin connector found on nearly all our machines.
Our engineering team has worked hard to ensure that wireless platform will be trouble free and does some amazing things that most users wouldn't be aware of. The transmission frequencies are based on license free industrial frequency hopping technology. This ensures the user that there's no interference with other radio systems and hugely adds to the robustness of the system in the presence of high electrical noise environments such as welding. Our hand held transmitter is paired with the base receiver using a coded handshaking sequence. This guarantees multiple systems can be deployed at the same site with no conflicts between other wireless system pairs. Even if the pendant gets lost and replaced the new unit will be coded to match the base system. There are approximately >1 000 000 codes available for pairing transmitters and receivers making sure that that getting a duplicate code is virtually impossible.
In addition to the "e-stop" and the "deadman switch" the system will tell the system that it's connected to, (welding turning rolls, weld positioners, column boom manipulators, etc.) to switch off in the event of a loss of communication between the wireless transmitter.