In 2013, the booming oil market- specifically in the Bakken shale formation that stretches from Southern Saskatchewan through to North/South Dakota and Montana- created a surge in demand for 400bbl and 1,000bbl storage tanks.
Problem: scarce labor supply in particular in North Dakota region. Antiquated, ineffective and inefficient existing equipment needed to be replaced with automated, highly functioning equipment to help improve through-put, efficiency, safety and repeatability.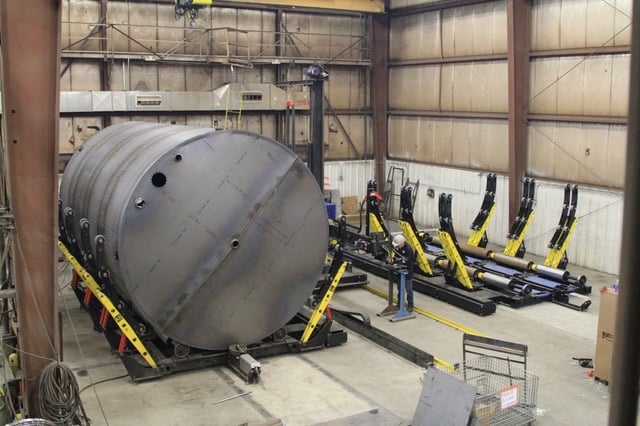 Solution: utilizing numerous existing proven components such as Metavision laser/vision seam tracking, specialized Fronius welding equipment, Xiris camera systems, and fully integrated welding/handling systems, LJ was able to develop a 400 barrel tank welding cell capable of up to double the output of the existing system, while at the same time eliminating numerous safety hazards and steps that were previously required. Here's how LJ did it.
Step 1: Preparation is done by cutting plate in advance with bevel cuts made on the sheets for middle cylinders. Sheets are then rolled & seam welded.
Step 2: Creating the initial robotic welding cell concept was done. Offline simulations were performed, the robot arm reach and cycle times were calculated. Once approved, the new process began as follows.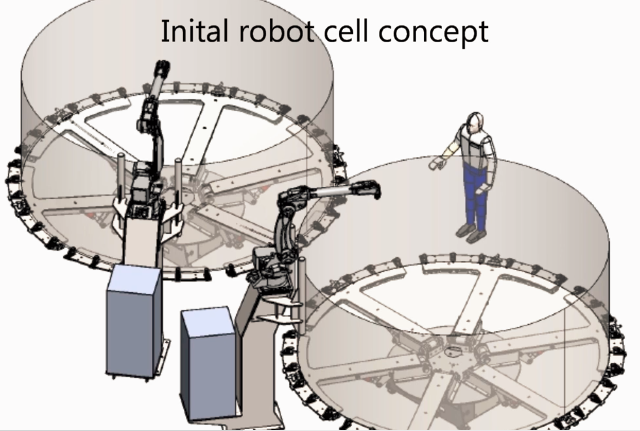 Step 3: Rolled sheets are ready for assembly under the new process; due to the thin wall thickness, the cans or sections sagged under self-weight.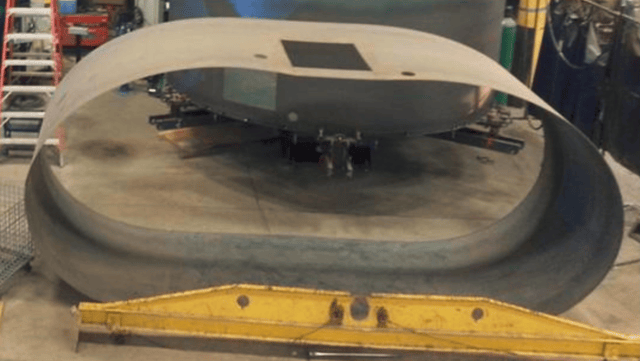 *Image courtesy of Praxair.
Step 4: The top and bottom cans were prepared on a large diameter LJ welding turntable, which were easier to handle when placed in the horizontal orientation due to sagging (illustrated in the previous step). The tops and bottoms of the cans are then prepared.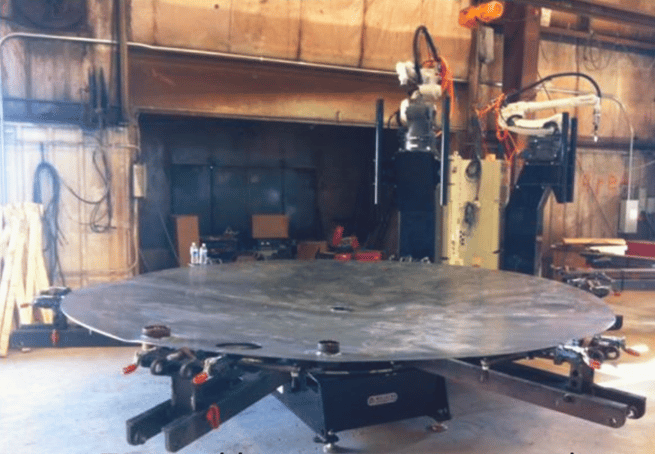 *Image courtesy of Praxair.
Step 5: The rolled sheets are then placed on the prepared caps for robotic welding.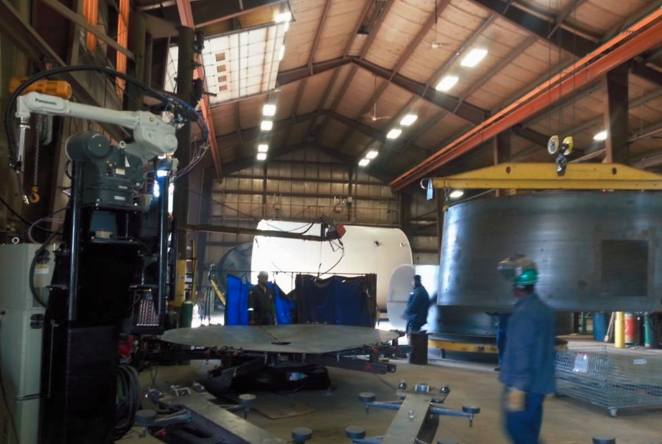 *Image courtesy of Praxair.
Step 6: In the final setup of the welding cell, the interior is ready for robot welding.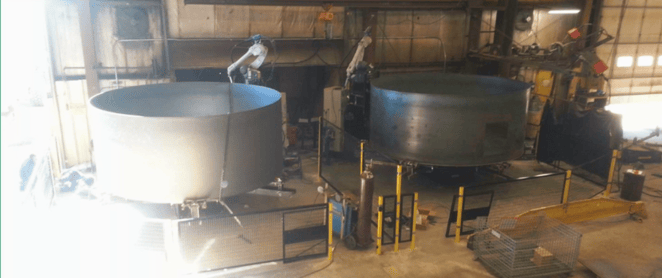 *Image courtesy of Praxair.
The 3/16" interior fillet weld is guided by laser seam tracking, seen below: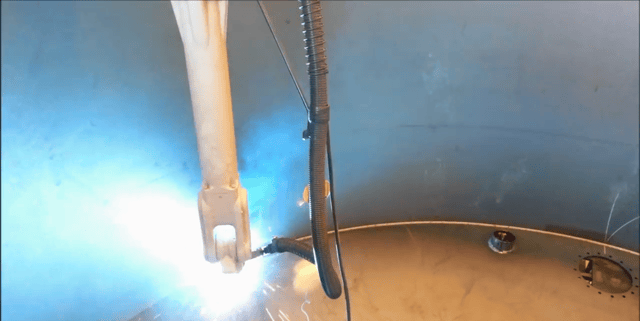 The interior fillet weld is completed in a single, uninterrupted pass.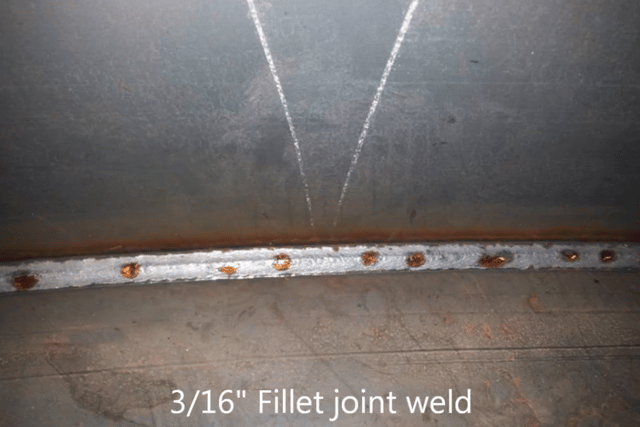 *Image courtesy of Praxair.
Step 7: Next, the exterior fillet weld is completed.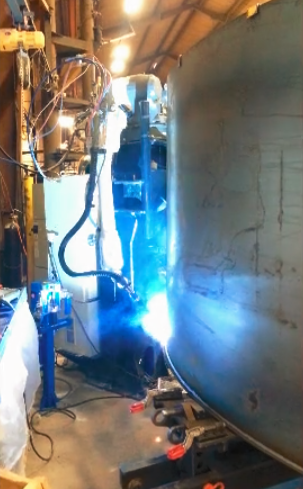 Once finished, the exterior fillet weld is completed in a single, uninterrupted pass.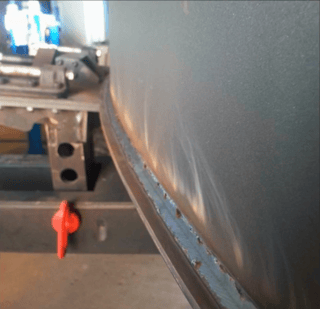 *Image courtesy of Praxair.
Watch this short video of the tank end cap fabrication below:
Step 8: Next, LJ tank fit-up rolls with closing clamps are used to support the thin walled tank from sagging while the welder tack welds, and the weld joint is tracked using vision seam tracking.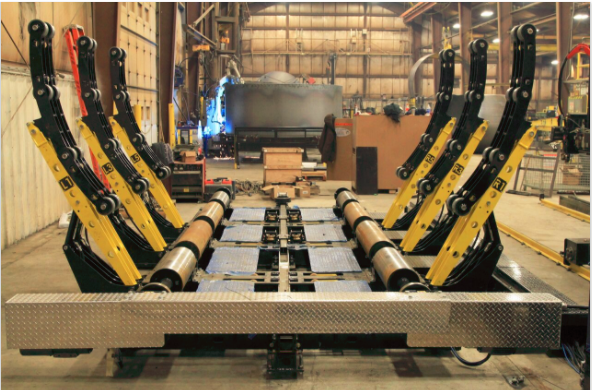 Step 9: Cans are then assembled along with the tops and bottoms of the tank.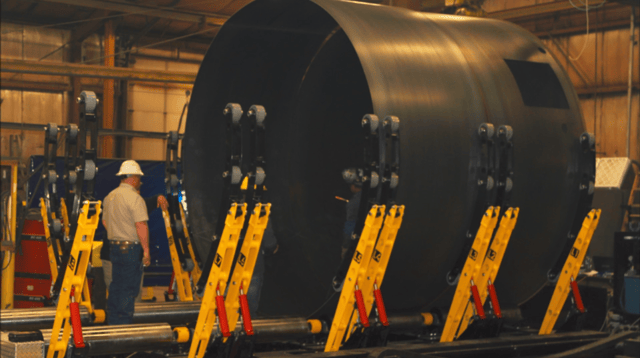 Step 10: Welding of all three seams welds is performed using an LJ's 12'x12' column and boom welding manipulator. The welds were done in one pass, full penetration, from the outside only using a proprietary process.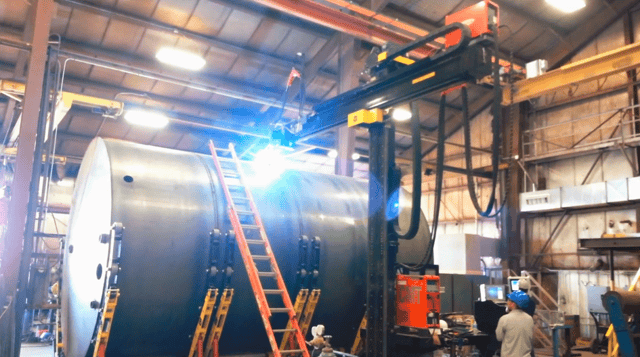 Watch the tank fit-up rolls and column and boom manipulator fabricate the final product below:
Welding results: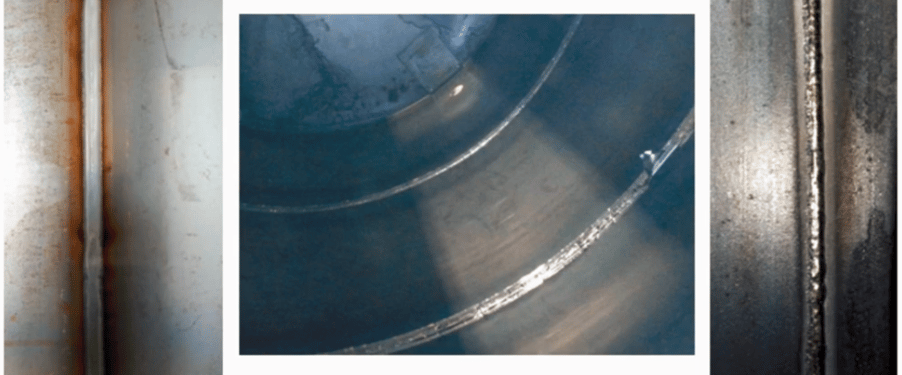 *back tape is used to ensure blow through of the weld arc doesn't occur.
In Summary: LJ provided value-added R&D on the welding process leading to an industry game changer: single side, single pass, full penetration welds from the outside only at up to 30 inches/minute welding speed. In addition, robotic end cap welding stations were implemented for fully automatic 1,000" length fillet welds (inside and outside) of large 12ft OD end caps at approximately 25 inches/minute welding speed.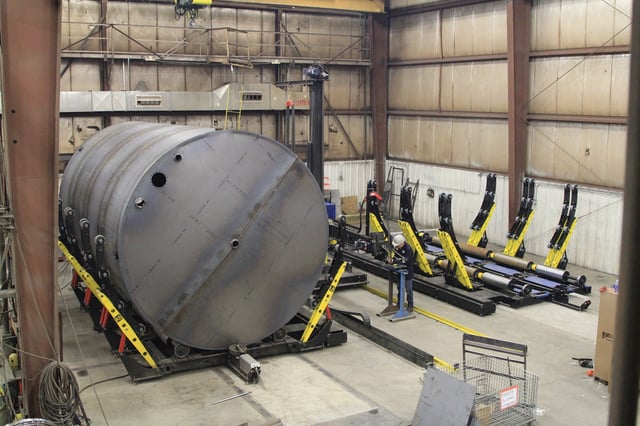 Results:
Complete fit up and alignment of vessel cans from touch screen pendant/robotic cells.
Single-button weld start to begin coordinated rotation, seam tracking, and single-sided automatic welding.
Greatly improved worker safety as most of the confined-space inside welding eliminated (tacking only) and using the automated welding system, eliminated the need for workers to work high off the ground (harnesses and fall hazards eliminated).
Repeatable, process-driven automation, resulting in more consistent quality fit up and welds.
Less than 50% of the cycle time of their old system at peak operation, with existing workers used for more productive needs!
For more information on how to manufacture tanks more efficiently:
Topics: Case Studies
If you liked this blog, please share!
---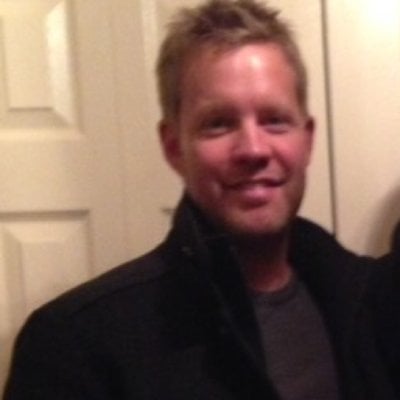 Posted by
Ryan Holt, P.Eng
Ryan is a Partner and the Chief Operations Officer for LJ Welding Automation.