6 Ton Gear Tilt Welding Positioner: T12PS-100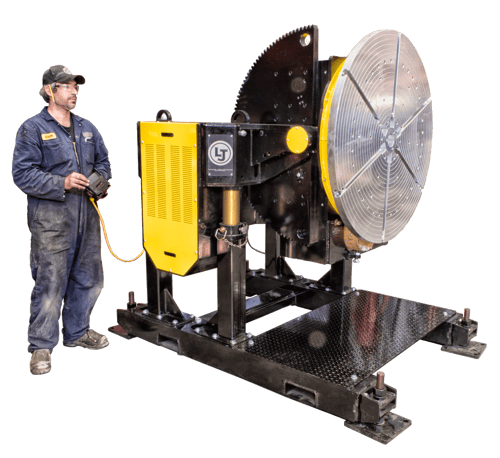 LJ's gear tilt positioners are used for positioning of extra large and heavy work-pieces. They are built with powered variable-speed rotation in either direction and can be controlled remotely using various hand or foot switch options.
Our positioner T12PS-100 with a gear tilt generally enhances worker's safety, increases accessibility, and improves weld quality. Using LJ's T12PS-100 positioner allows the operator to easily position the weld into the most optimal hand welding positions. Another benefit is that it helps to increase accessibility, weld quality and productivity & operator safety. Moreover, it lowers operating costs, improves weld productivity, and reduces the time and effort required by the welder while working.
T12PS-100 supports up to 6 tons at 0" to 12" overhung load. Workpiece manipulation is possible by tilting, rotating, or lifting, giving the operator control and performance simplicity. The T12PS-100 has an 89"x 60"x 59" footprint. Its tilting torque of up to 250,000 lbs. allows for effortless tilting of heavy workpieces at varying angles of up to 135° in 23 seconds. This sturdy torque gives you a tilting speed ranging from 0.05 to 1.00 rotations per minute (RPM). The machine also features plenty of accessories to boost functionality and customize it to your shop's requirements.
At LJ Welding, we try to offer the best solutions that meet the needs of our customers. If you're looking for a gear tilt positioner with different technical specs, make sure to check out Gear Tilt Robotic Welding Positioner System - 1RPT-100, 1.5 ton Gear Tilt Welding Positioner - 1PT-300, 3 ton Gear Tilt Welding Positioner - T6PS-100 or 12 ton Gear Tilt Welding Positioner - T24PS-100.