WELDING AUTOMATION FOR OILSANDS APPLICATIONS
Alberta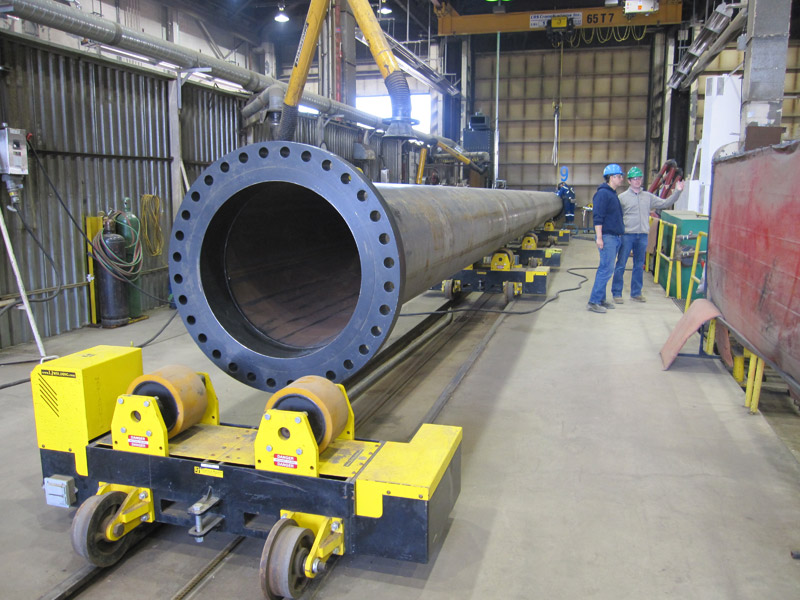 Project:
LJ's manufacturing facility is located within hours of the Canadian oilsands, and thus is able to provide efficient local service with which this harsh environment demands.
The LJ Welding Solution:
Maintenance & Fabrication
LJ manufactures a complete range of oilsands-specific equipment that is specialized for the onsite needs of oilsands operators.

Pipe Double Jointing Weld Shack – With pipe handling supports. LJ can provide fully customized outdoor welding shacks to protect welders from harsh weather, while providing all of the functionality of an indoor shop when double jointing heavy, long pipe sections.
Lighting, ventilation, heating, full power supply, storage and comfortable work environment for welder –The shack is powered by a diesel generator unit and powered wheels which propels the shack along a set of tracks. Pipe travels through the welding shack where it can be moved, leveled, rotated and welded comfortably and efficiently.
Barrel Puller – Used to pull apart and press together heavy pipe sections and expansion barrels. Hydraulically powered, with precision linear PLC control and touch screen. Allows operator to pull or press pipe up to 100,000 lbs pulling force to precise pre-set distances with an easy to use touch screen.
Pipe Flange Facing Grinder – Super heavy duty grinding machine, used to quickly remove very hard CCO material inherent in the hard surfacing of pipe and flanges. Enormous time and money saving achievements were made, compared with standard practice of manual grinding.
Pipe Rotators – Specialty turning rolls, typically mounted on rails so that pipe can be loaded outdoors and rolled into workshop. Complete side shifting, leveling and alignment using powered lead screw enable operators to quickly line up pipe, tack weld, precision rotate and weld heavy pipe with ease.
---
Field Applications
Pipe Installation – Used for the safe and efficient installation of a variety of process pipe and tube into racks and tight spaces in all areas of oilsands facilities using pipe rigging rollers.
Electrical Cable Installation – Heavy cabling installation can be made much easier with LJ's super-duty series of cable reel rollers, which allow users to easily unwind/pay out heavy electrical cable, hoses, or wire in the field. Available in roller-style or spindle-style options.
Cylinder Storage – The harsh oilsands environment requires the heaviest duty cylinder cages—no other cylinder cage on the market is built as tough. 4,000 lbs lifting and storage capacity, and up to 20 cylinders—fully engineered and 3rd-party inspected for safe overhead lifting.
The Result:
LJ has played an important role in the construction, fabrication, installation and maintenance of the oilsands with many customized designs to suit the needs of both operators and contractors.
---